Hillcrest Farm
At Hillcrest Farm of PEI we raise award-winning Angus Beef Cattle and English Shire Draft Horses. Over the years, we have exhibited our animals at livestock shows in the Maritimes and occasionally in Ontario and the United States.
Family owned and operated, our 137 acre farm is located in the rolling hills of Bonshaw, in beautiful Prince Edward Island, Canada.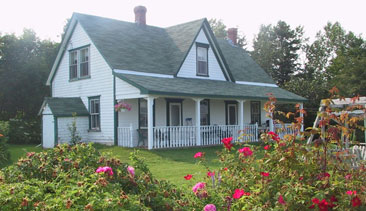 Angus Cattle
Starting in 2000 we gradually converted from raising/selling commercial cattle (feeders) to enter the purebred seed stock arena. We have (and with no plans to ever get any larger) approximately 25 brood cows. All of our stock are registered and purebred Angus. Each year we may cull an older cow or two and replace it with a selected heifer from one of the top herds in Canada or a home-raised replacement.
Over the last few years we've used artificial insemination ("AI") to one-time breed 10 – 14 cows each year. Any cows that calve in January plus a couple of heifers get synchronized, and we use timed AI to breed these cows during the last couple of days in March to top Canadian or U.S. bulls. Currently our herd sire is Soo Line Blackman 844S. This bull is the first natural calf from the famous $100,000 Soo Line Annie K 6271 that sold to U.S. interests in 2009.
About us
We purchased our run-down farm in 1986, and have been working ever since to get it to the state it is today. We are part-time farmers, but run the farm ourselves with no hired hands so our stock does not get a lot of TLC – that's why we decided on Angus cattle.
In 1988 we purchased a few head of Angus cattle locally and imported three Shire fillies from England.
In 2009, we began building Hillcrest Farm Disc Golf course. This private course is championship quality and has been host to local and professional disc golf tournaments. It was designed by well-known course designer John Houck of Austin Texas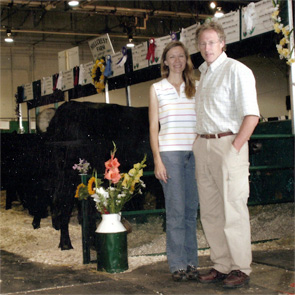 Shire Horses
In 1997 we imported our current Shire stallion, Acle Giggelo, from England. We usually keep 3 – 4 Shire brood mares and raise 1 – 3 foals per year depending on market demand. Currently, our brood mare band are all related to Acle Giggelo so we are forced to use transported semen or frozen semen. Often our good show quality horses are sent to Stephen and Sherry Lewis (Terragold) in Cannington, Ontario where they break them, train them and show-market them in Canada and the USA.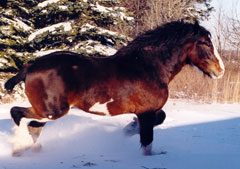 Herd Stallion
ACLE GIGGELO
Born 1996
Sire: Bodernog Master
Bodernog Sunbeam
Hillmoor Mascot
Dam: Acle Prima Donna
Only shown once in Canada – Champion Shire Stallion at the CNE in 1997
Brood Mares
HILLCREST LADY MEGAN
Born 1993
Sire: Admergill Prince
Admergill Beauty
Royston Enterprise
Dam: Royston Amy
HILLCREST PRINCESS
Born 2002
Sire: Acle Giggelo
Acle Prima Donna
Royston Enterprise
Dam: Royston Amy
Horses for Sale
HILLCREST LADYSLIPPER
Born 2004
Sire: Admergill Prince
Admergill Beauty
Royston Enterprise
Dam: Royston Amy
HILLCREST ADMIRAL
Born 2004
Sire: Acle Giggelo
Acle Prima Donna
Hillcrest Samson
Dam: Hillcrest Beauty
Sold in Recent Years
HILLCREST TITAN
HILLCREST MAXIMUS
HILLCREST GYPSY
HILLCREST EBONY ROSE
HILLCREST MILLIE
HILLCREST GOLIATH
HILLCREST BEAUTY
Contact Us
Dr. Bill and Mary Best and Family
Phone/Fax: (902) 368-2042
Email: best@islandtelecom.com
Mailing Address
22 Gates Drive
Charlottetown, PE
C1E 1R7
Canada
Hillcrest Farm and Disc Golf - 17873 Trans-Canada Hwy, Bonshaw, PE C0A 1C0